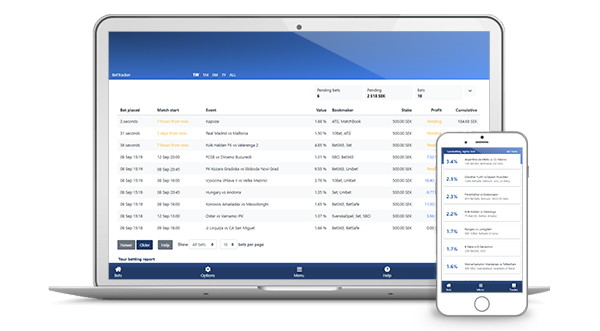 Sure Betting – Help Section
Sure betting tips and sports arbitrage betting explained.
What is sure betting?
Learn the basic concept of sure betting and how you can profit from it.
How to place a sure bet
Learn how to place a sure bet with RebelBetting
What you need to know to get started
This video lists the four things you need in order to become successful with sure betting or value betting.
Mikael made €2,000 in one month from sure betting
See the impressive sure betting results from sports bettor Mikael when he uses RebelBetting.
Value betting vs sure betting
Learn the difference between sure betting (sports arbitrage) and value betting.
How to avoid bookmaker limitations
Check out all our best tips to make your bookmaker accounts last as long as possible.
How to make €100 in 10 seconds
See how easy Mikael made a whole day's salary in less than a minute just by placing one sure bet.
Interview with 3 sports bettors
This video covers the main insights from interviews with three RebelBetting customers.
FAQ
Difference between ROI, yield and profitability
Bjorn
2022-10-21T14:49:32+02:00
ROI vs Yield – what's the difference?
ROI and Yield are a couple of the most important metrics in sports betting. In this FAQ, you will get to know what they mean and why they are important if you want to become a profitable sports bettor.
ROI – Return On Investment
ROI in sports betting is a measure of how much your bankroll increased during a specific period. This could for example be one month, one year or even since the beginning of your betting career.
ROI will typically increase over time, whereas Yield will stay roughly the same.
How do you calculate ROI?
Calculating your ROI is pretty straight forward. Just divide your Total profit with your Starting bankroll.
Example: You have made a profit of €900 and started with a €3,000 bankroll. To calculate your ROI: 900 / 3,000 = 0.30 = 30%. This means that your ROI would be 30% in this case.
Note: In RebelBetting, we show the ROI for each individual value- or sure bet. In this context, ROI shows how much you will profit by betting on one value bet or sure bet, compared to the money invested (the total stake).
Yield – Return per bet
Yield, in sports betting terms, means how much you profit per bet, or per unit invested (what you staked).
Your Yield is a measure on how efficient your betting is. It doesn't take the size of your bankroll into account, so it's a good relative number to compare with other trading strategies, or other users.
Also, Yield doesn't change depending on bankroll and will typically not increase over time, as ROI does.
How to calculate Yield?
Calculating Yield in sports betting is also very easy. You just divide your Total profit with your Total stake (or turnover).
Example: As in the previous example, your Total profit is €900. To achieve this profit, you have staked a total of €20,000. To calculate your Yield: 900 / 20,000 = 0.045 = 4.5%. This means that your ROI would be 4.5% in this case.
Equally important – the Closing Line Value (CLV)
Start your free trial
Make your first profit today with the 14 day trial
Completely free, no credit card required