Here's an interview with one of our customers – Tom, from the United Kingdom. He signed up for ValueBetting in late May this year.
Tom has placed 2053 value bets so far and he has made a whooping profit of £5729 (as of July 8th). This is pure profit – no starting bankroll included. His running ValueBetting result can be seen in the profit graph below.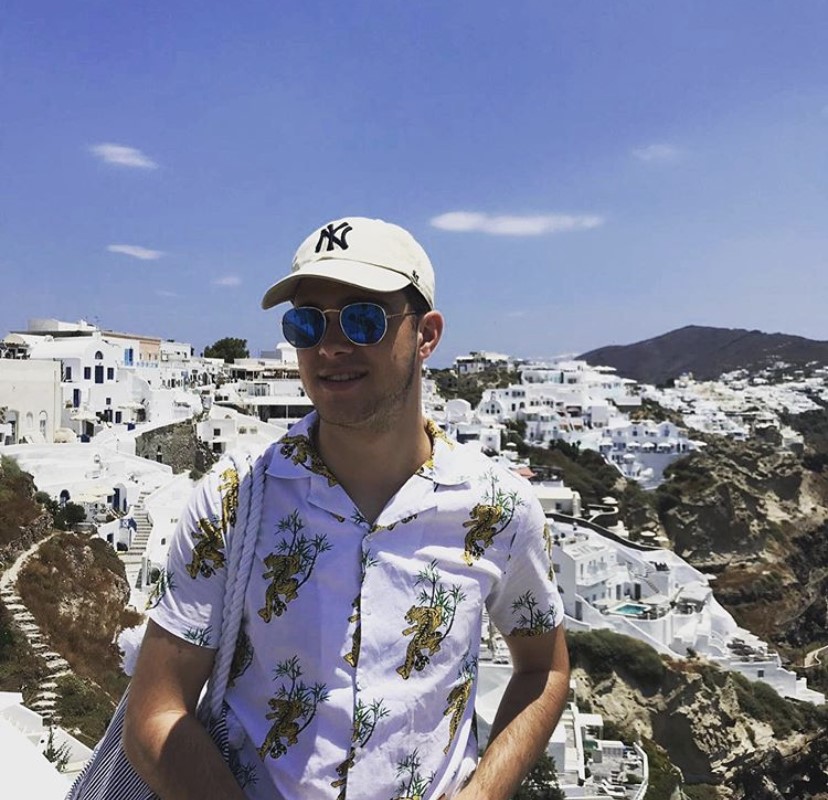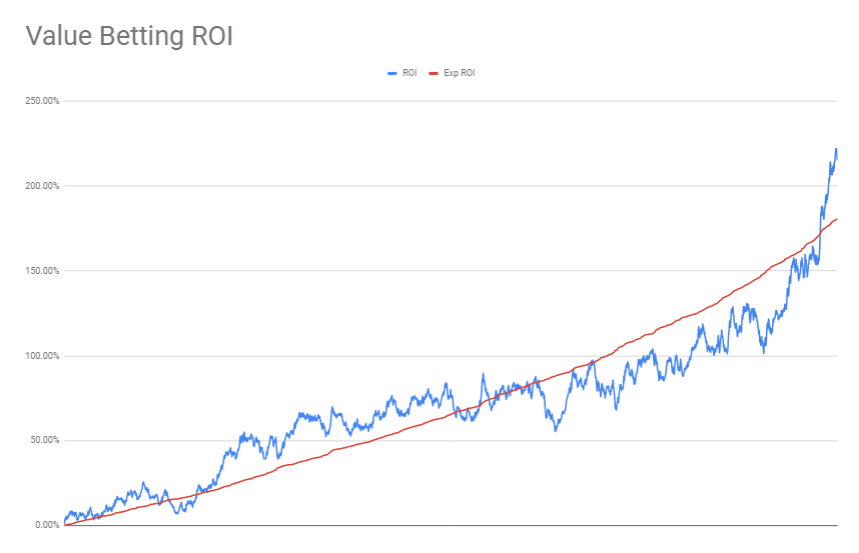 How did you get into betting in the first place?
I got into betting probably how most do, I've always been into football and would place the rare casual bet every now and then for fun. While I was at university, I couldn't afford to do it all that much living on a budget and I was wary of forming an unhealthy habit.
As a poor university student, I started looking at ways to make a bit of extra cash online and stumbled across matched betting. I did all the welcome offers I could and stopped once I ran out of sites to sign up to and thought that was that. About a year ago, after I graduated and started my first job, I had a bit of extra cash and realised I could put it into matched betting with free bet offers to create a bit of extra income as a hobby. So that's what I did. I started taking it seriously and have been tracking my profits from matched betting since then.
What was the biggest hesitation or concern that almost prevented you from buying ValueBetting and RebelBetting?
Coming from a matched betting background, regular straight betting was something I wasn't too comfortable with. I was sceptical about taking on too much risk especially with so many other paid tipping services available. I had an understanding of how bookmakers work and their edge against the regular punter. I was also aware of how easy it was to be banned/restricted from online bookmakers, and knew that by starting value betting I was probably going to be eventually banned or restricted by any of the bookmakers I was going to use.
You previously said (in a post in the RebelBetting Community) that you were interested in the arbitrage service (RebelBetting) at first. Did you try it out or did you decide to go with ValueBetting instead?
I already had tried the trial version of RebelBetting a couple of years back and had the lite version of the software on my computer already and kind of forgot about it. As COVID started to ramp up the matched betting opportunities started to dwindle. I was then looking again for other ways to grow my bankroll and remembered Rebelbettings arbing software. I went onto the website and saw there was a 2 for 1 month offer on so I decided to sign up to that. Only then I realised that I had unintentionally signed up to the value betting service instead. I considered cancelling but I thought I'd give it a whirl- that turned out to be a great decision!
What was it that made you switch from being interested in sure betting at first, and then move on to value betting? Or are you still interested in both?
I think I am still interested in both, like I said before, I'd always prefer to take on less risk to make less profit than to take on more risk to potentially make more profit. I have found arbing to be another reliable risk free way of making money just like matched betting. I am always open to new ways of making profit with as little risk possible.
What did you discover as a result of using RebelBetting and ValueBetting?
I discovered that it is possible to 'beat the bookies' using straight, regular betting and that they hate it!
Are you a beginner with value betting or have you done it before?
I am a beginner in the sense that I have never used a software like this to find and place value bets. But obviously, I had lots of previous experience with online bookmakers and exchanges through matched betting.
What was your value betting starting bankroll, and how much is your current profit?
My value betting starting bankroll was £2694. My current profit stands at £5729 (as of 8th July.)
If you were to recommend ValueBetting to your best friend, what would you say?
I'd tell them to try their best to view the process as more of an investment than betting, think long term and to understand the risk. To not get too disheartened about downswings & not too excited about upswings. Trust the system and keep placing bets. Do not chop and change the settings so often; use a VPN where you can and round your stakes.
What specific feature did you like most about this product?
The reports section is really cool, it breaks down all the bets you've placed by market, sport & bookmaker. It also tells you the win rate of you bets and how your bankroll has grown over time.
How many bets have you placed so far using ValueBetting?
I have placed 2053 bets as of July 8th. I plan on placing as many bets as time & the bookies allow me!
How many and which bookmakers do you use?
I've used a total of 18 bookmakers across the 2053 bets (as of July 8th) including:
What Kelly stake sizing strategy do you use?
I use the default 30% and always have since I started.
What max stake percentage do you use?
I use the default 2% and always have since I started.
Minimum and maximum odds?
I use the default 1.2 min & 3.1 max odds. I've used these odds since I started.
Minimum and maximum value?
I use 2% min & 99% max value.
Do you bet on value bets long before match start? What strategy do you use when it comes to this?
I originally started on 12 hours max before a match. I then realised this may be a bit too long since a lot can happen in the 12 hours between placing and match start that can influence the odds and value. So recently, I changed it down to 6 hours max. If I know I'm going to be away from my computer for a while I may change it to 12 hours.
Would you say you are risk-tolerant? I.e how do you handle downswing/losing streaks?
I'd say I am risk-tolerant when it comes to value betting, you just have to think long term. Every investment comes with a risk no matter how big or small. Like I said above, I try not to get too disheartened over downswings and at the same time not too excited about upswings (easier said than done). You just got to trust the process and understand that not every bet is going to win.
Have you ever doubted that value betting will work?
No, not since before I started.
Do you have any feature suggestions/improvement ideas? (The RebelBetting dev team will be notified about this as well! 😀)
These are all I can think of for now:
Having it so you can input your exact bankroll & starting bankroll to 0.01 places.
Showing your progress graph bet by bet in the reports section instead of just day by day.
Adding Skybet to the bookies list.
Ability to edit placed bets in the tracker (i.e. the bookie/event) Had it where I wasn't able to get the nominated price on the original bookmaker but could get it on another bookmaker, would've been great to edit the bookmaker in the tracker.
Option to export all the bets you have in your tracker. (like you can with the reports)
Option to sort your bets in the tracker by the different columns. (e.g. sort by value, sort by profit, sort by stake)
Adding Horse Racing to the sports.
And last but not least – what will you do with the profit (expected profit)?
I plan on saving it for now and carry on reinvesting it in other betting methods such as trading, value betting & matched betting.
Update October 1st, 2020: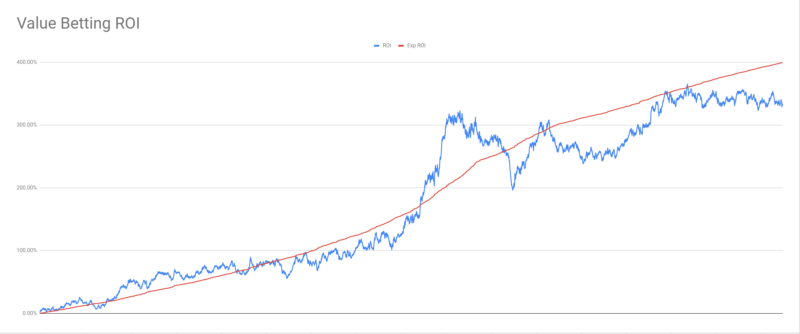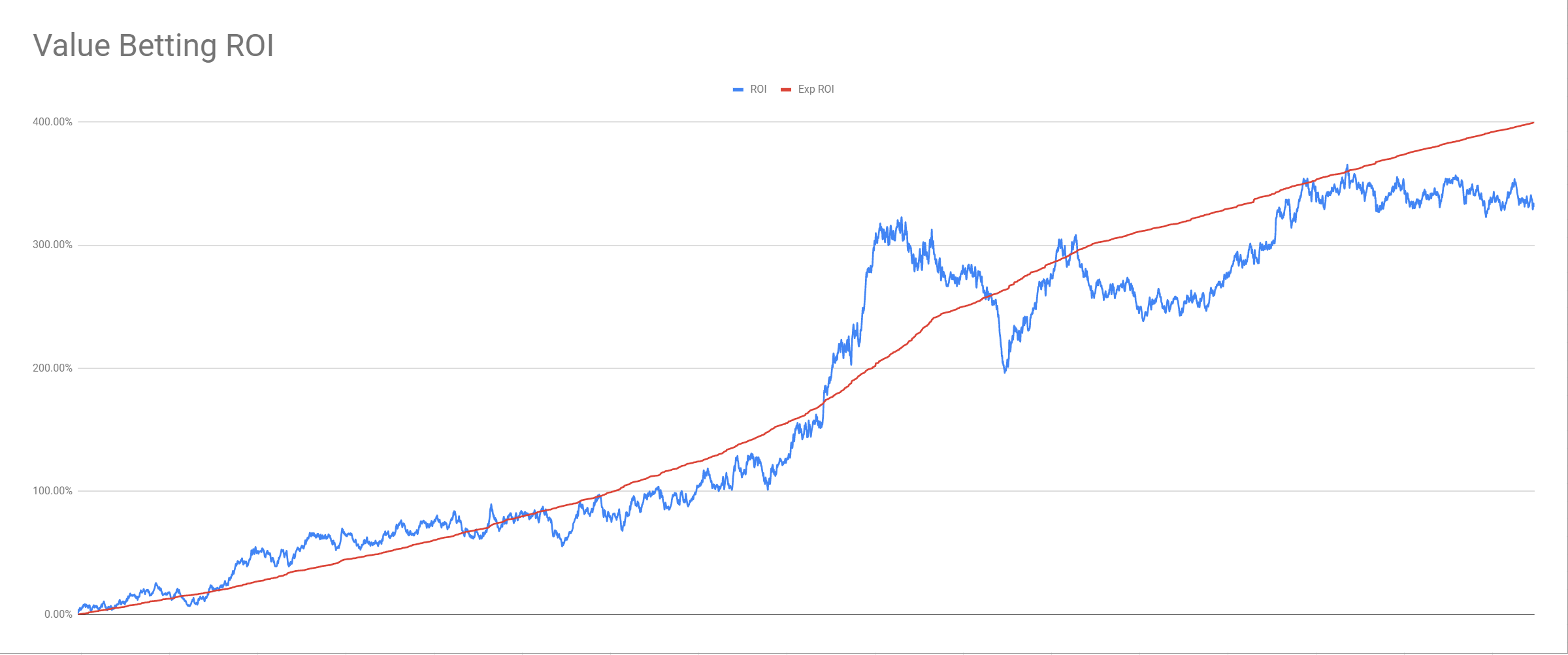 Start your free trial
14 day RebelBetting trial
Value betting and sure betting included. No credit card required.