The top Nigerian bookmakers available in RebelBetting
As the first and most popular arbitrage service in Africa, we are proud to announce that all RebelBetting products now supports the following bookmakers:
This means sports arbitrage (surebetting) is finally possible in Nigeria. Sports arbitrage is 100% legal, unlike for example betting on "fixed matches". With arbitrage betting all you are doing is placing bets with different bookmakers whose odds happen to guarantee a profit overall.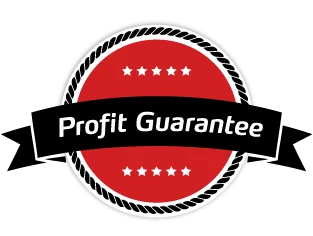 Profit Guarantee
We know our products work.
In fact, we are so confident about it that we offer a Profit Guarantee.
If you don't make a betting profit in the first month you get another month for free.
Again and again until you profit. We take all the risk.
Get started with sure betting
Why not start earning money from surebetting yourself? It is a risk-free method that effectively turns gambling into a way of investing your money. Try out sure betting today. Value betting is included!
RebelBetting Pro
Value bets & sure bets

Maximize your profit

The most

profitable bets

Access

non-limiting bookies
RebelBetting Starter
Value bets & sure bets

Great when

starting out

ROI over

30% / month

 
Value betting in Nigeria
Sure betting is one way to earn money on sports, but you can also make money by value betting. Value betting is the easiest way to make money on sports and doesn't require a very big bankroll, nor many bookmakers. Starting out with just three or four bookmakers, you can do just fine. But the more bookmakers you use the more value bets you will get. But value betting is not the same as sure betting though.
Partner up with us and get paid!
Do you want to earn even more money? Do you know if a sports community or web site in Nigeria (or nearby countries) that might want to mention RebelBetting products to their visitors?
If so, you can earn a commission for every sale. By joining our affiliate program you can easily make a nice passive income simply by spreading the word about RebelBetting. Read more and sign up here.