We would like to thank all our customers and supporters for being with us this year. We look forward to an amazing 2022 with you!
Here's a little look back with some of the highlights of 2021. Many exciting things have happened this year – and you've made impressive sure betting and value betting profits this year.
Customer results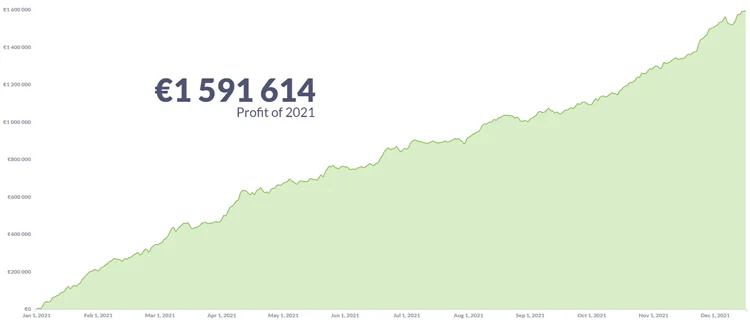 Our customers made a combined profit of nearly €1.6 million EUR during 2021. With 15 days left of the year, it's a sure bet that the profits will be even higher before the year ends.
Also, note that we released the sure betting web version just two months ago. Imagine what profits we will see combined for 2022!
New bookmakers
New UK friendly broker
One of the best and most trusted betting brokers, Asianconnect, has been added for both ValueBetting Pro and RebelBetting Pro users. Asianconnect is essential, particularly for UK customers, if you want to be able to bet with high stakes on sharp bookmakers without the risk of limitation. Read more about bet brokers and how they work here.
Sure betting web release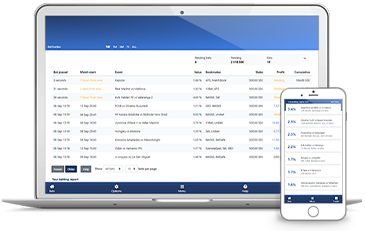 Just a few months ago we released the much anticipated sure betting web version. You can now place sure bets everywhere! The web version is fast, accessible and offers new features that the software version didn't have – for instance, automatic logging of bets and automatic bet settlement when the match is complete.
Customers can also choose plans better tailored to their needs by selecting Starter or Pro. The web version has been a great success from the start and we look forward to another year adding more features to it.
More value bets with ValueBetting Pro
ValueBetting turned 3 years this year! Time flies. We continuously fine-tune our services to make the best possible products for you. Not long ago the ValueBetting Pro version was released – perfect for you who want to maximize your profits. Pro offers even more value bets (thanks to a new sharp bookmaker added as a source of truth). With Pro you also get value bets from non-limiting sharp bookmakers, exchanges and brokers where you can place larger stakes.
2022
We have a lot of things in the pipeline for 2022. Keep an eye on our blog, follow us on Twitter and join our community, then you won't miss out on any updates.
And last but not least – Happy holidays and a happy new year!
/The RebelBetting team
Start your free trial
14 day RebelBetting trial
Value betting and sure betting included. No credit card required.