The BetTracker is now integrated into value betting. You can now log your bets with only one click. You don't have to use the Excel log book anymore.
As a bonus, you now get free access to the automatic Bet settlement add-on. This means that your bets will be automatically graded when the match is complete.
Free automatic Bet settlement until autumn

Web based = accessible everywhere

Complete overview of your betting history, results and profits over time

Keep track of your ROI, Yield, EV and much more
How to log your bets
After placing your bet, click the "Log" button and the bet will be saved to the BetTracker. That's it! It couldn't be easier.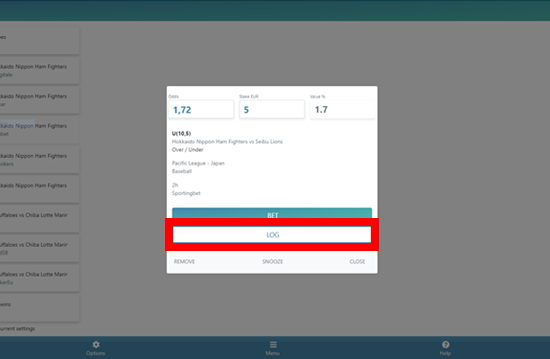 You log your bets in the bet details view. To view your logged bets, go to the BetTracker by clicking the "Tracker" button

 (at the footer panel).
Start your free trial
14 day RebelBetting trial
Value betting and sure betting included. No credit card required.