Some bookmakers may charge a tax on your bets, depending on where you reside or where the bookmaker has its license. We've developed a solution for this tax where you can specify which taxation method (if any) is applied to any bookmaker account.
Note that customers from Germany should always select taxation of Stake.
The sure bet / value percentage will then be adjusted accordingly, fully automatic of course. You can find this setting under Options/Bookmaker. You can select each bookmaker in the drop-down menu and specify tax settings individually.
There are different ways in how bookmakers handle taxation. Some take a percent of the Profit or a percent of the Stake. Other bookmakers chose to completely ignore it (doesn't charge any tax on your bets).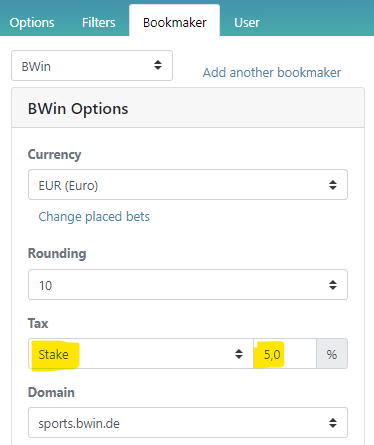 Taxation table for German customers
Below you can find the taxation percentage for customers from Germany for some bookmakers. Please let us know if any of the sportsbooks below have changed their tax percentages.