You can of course try before you buy! Sign up below and get a 14-day free trial of RebelBetting.
Try RebelBetting for free for 14 days

Turn sports betting into investing

Value bets up to 5% and sure bets up to 2%

Full access to the Bet Tracker with automatic bet settlement

Click and open up to 50 sure bets and 50 value bets per day.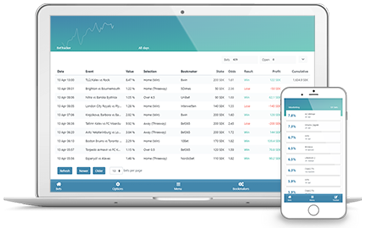 To get access to the most valuable sure bets and value bets you should subscribe to the paid version of RebelBetting. By subscribing, you get instant access to all features; including sharp bookmakers, bet brokers – and most importantly – the very best bets.
Start your free trial
14 day RebelBetting trial
Value betting and sure betting included. No credit card required.

Want to learn more before you start?
Betting Pro Mikael shares the 5 steps to get you started! Check out the video below.
Subscribe today
Start using the fastest, most user-friendly, value betting and sure betting service on the market. At any given time, RebelBetting finds thousands of profitable bets for you to bet on.
RebelBetting Pro
Value bets & sure bets

Maximize your profit

The most

profitable bets

Access

non-limiting bookies
RebelBetting Starter
Value bets & sure bets

Great when

starting out

ROI over

30% / month