The number one bookmaker for sports betting and arbitrage trading is Pinnacle. They openly welcome arbitrage players, accept high bets, and will never limit your account. That means that they are perfect for sure betting. Now, read below on how to get the offer and start profiting with Pinnacle today!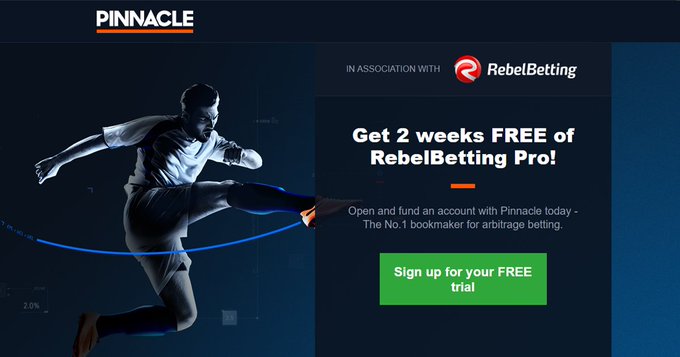 What is this Pinnacle offer?
RebelBetting has partnered with Pinnacle to give you a great offer. You will get 14 days of RebelBetting Pro for free, just by opening an account at Pinnacle and making a deposit. Don't miss out! Every sports arbitrage player should use this bookmaker.
"As the only bookie to welcome arbitrage action and not limit winning players, we've been working successfully with RebelBetting since 2009. Many arbitrage products come and go so the established nature of their business and the positive feedback we get from players, is testament to just how good their product is. "
– Pinnacle
How to get your free trial
1. Clear your browser cookies. This is important! Failure to do so might result in you not getting the free weeks.
2. Click here and create an account at Pinnacle. In the "Where did you hear about us?" field, please enter "RebelBetting".
3. Deposit at least 10 EUR (or equivalent in your currency) into your Pinnacle account
4. Wait until your deposit shows up at Pinnacle.
5. Send us an email/chat with:
your Pinnacle client ID (for example "AB12345")
your RebelBetting username/email address (No user yet? Create a user here)
6. Have a little patience. After around two business days*, you will receive your free days.
You will receive an email that your account has been activated. Pinnacle also has a mirror website if you can't access their main site.
Only valid for new RebelBetting users and once per person. Do not create multiple Pinnacle accounts. If you already have a Pinnacle account, we cannot offer you a free trial (sorry about that).
Why may I have to wait?
* Verifying your signup and deposit in the Pinnacle affiliate system takes at least two business days because Pinnacle updates its reports manually.
Want more than those 14 days? Then you should subscribe! 👇
Subscribe today
Start using the fastest, most user-friendly, value betting and sure betting service on the market. At any given time, RebelBetting finds thousands of profitable bets for you to bet on.
P.S. To get the best possible offer make sure you join for a longer period of time – up to 30% off.
RebelBetting Pro
Value bets & sure bets

Maximize your profit

The most

profitable bets

Access

non-limiting bookies
RebelBetting Starter
Value bets & sure bets

Great when

starting out

ROI over

30% / month