Sabia que pode ganhar centenas de euros apenas por procurar bónus de apostas?
As matched betting são uma forma de lucrar com os bónus, apostas grátis e outros incentivos oferecidos pelas casas de apostas. Também conhecido como matched betting sem risco ou caça ao bónus.
O software MatchedBetting está focado em tornar este processo o mais fácil possível. Simplesmente insira os bónus que deseja utilizar no MatchedBetting e obtenha uma lista das odds mais lucrativas. A calculadora automática informa exatamente quanto apostar em cada lado para maximizar os seus lucros.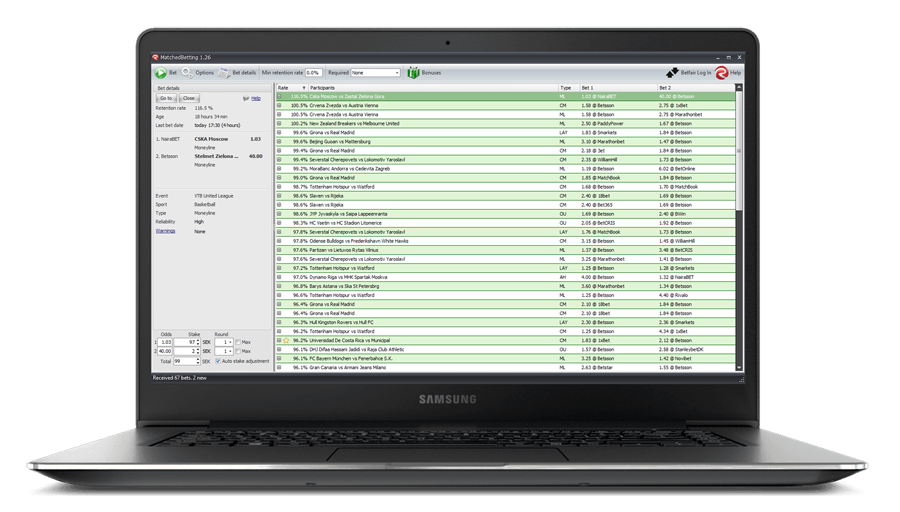 Por quê matched betting?
Uma maneira fácil de lucrar

Precisa de pouco dinheiro e pouco tempo.

Completa e automática conversão de moeda.

Menos ou nenhum risco de ser limitado.

Retornos de bónus muito maiores em comparação com outros serviços.

Mais de 100% de retorno de bónus possível, em comparação com o padrão da indústria de 85%.

Filtros e alertas personalizados.
This is the perfect product if you don't have a large bankroll or if you just want an easier product. It can also be used as a great complement to RebelBetting and/or ValueBetting, maximizing your surebet and value bet profits with bonuses.
Subscreva MatchedBetting
Assine hoje e comece a extrair valor dos bónus de apostas.
Uma ótima maneira de aumentar a sua conta bancária logo ao começar!