ValueBetting Quick start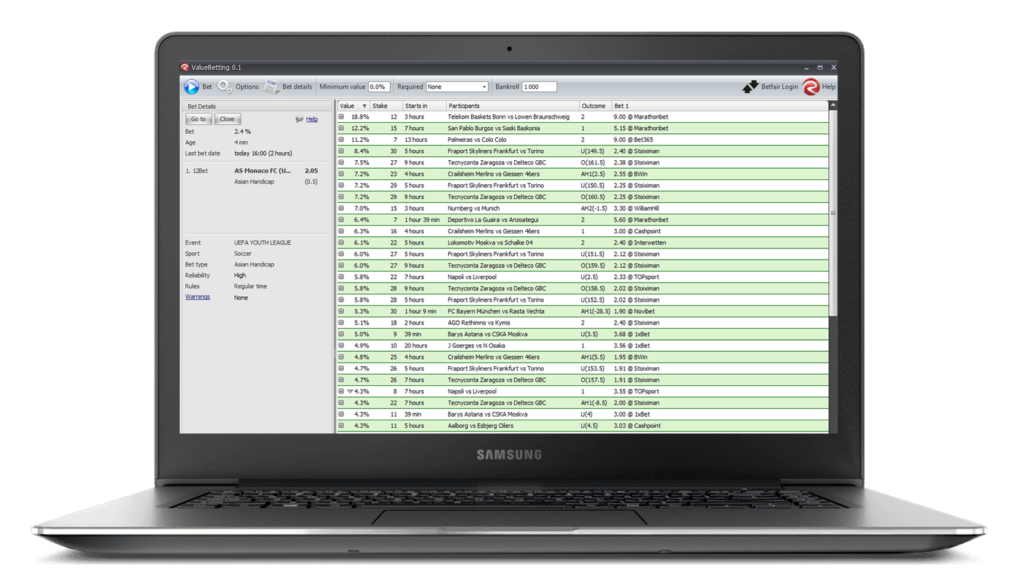 How to place a value bet
Enter your current bankroll at the top.
Pick a value bet in the list and press the Bet button:
Our AutoSurf technology automatically logs you in to your bookmaker account, finds the correct match and highlights the odds. Enter your credentials under Options / Bookmaker Setup.
You double check the bet, enter your stakes and confirm the bet.
Done!

This short video explains the basic betting process:

To get more familiar with the software, please refer to the RebelBetting software manual.
If you are a beginner and don't know what settings to choose, just rely on the recommended beginner settings. You can, of course, change settings yourself later on if you want.
Kelly criterion stake sizing strategy
ValueBetting has a built-in staking strategy: Kelly criterion for stake sizing. This will ensure optimal profits, but you can also use it to lower risk. Default Kelly is set to 30%.
Maximum stake
Default max stake is 2%. The max stake is set in percent relative to your bankroll.
Maximum odds
Default settings are minimum odds of 1.2 and maximum odds 3.1. Don't bet on the highest odds just because they give the highest value. Higher odds are more unlikely to result in a win and this will increase the variance. Have an even lower max-odds to further reduce variance. For instance, don't bet on value bets with odds higher than around 2.5. This is, of course, all depending on how much variance you are willing to take.
Minimum and maximum value
ValueBetting has default settings to show a minimum value of 2% and a maximum value of 20%. Betting on higher value will over time increase your yield (and your profits), and give you a larger buffer against shifting odds. If you have enough bets, try increasing the minimum value to 3%.
There are a few things you need to do first, before you start. Follow the five steps below to get started.
Step 1 – Enter your bankroll
Enter your starting bankroll in the bankroll form in the header panel. Note! When value betting it is important that you update your current bankroll often, preferably every day.

Step 2 – Select bookmakers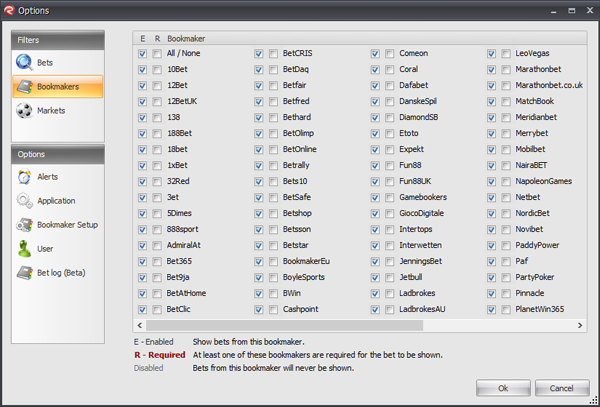 Step 3 – Enter currency and timezone
Click on 'User'. Enter the odds format you wish to use, your main currency and select default rounding on all bookmakers. To select rounding on specific bookmakers go to 'Bookmaker setup' instead. Select max stake, enter time zone and choose language settings. Click ok.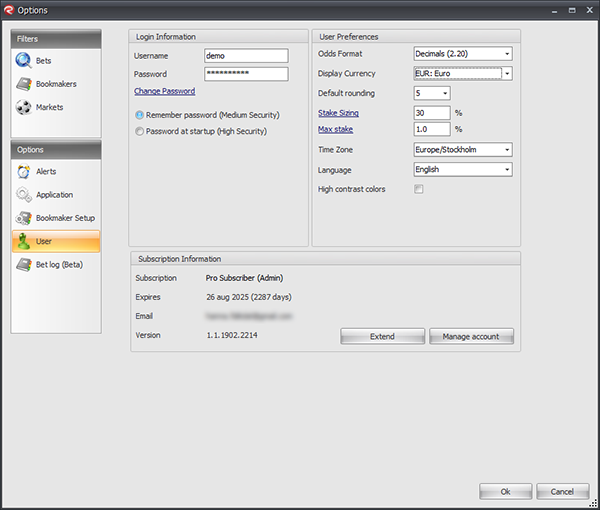 Step 4 – Customize bookmaker settings
Click on 'Bookmaker setup'. This is where you specify your bookmaker login credentials for each bookmaker. By entering this info, you will have access to our unique AutoSurf feature where the software will many times automatically log you into the bookmaker, find the correct sport, league and market, and highlight the odds. The autosurf function is available on some bookmakers, but not all.
Here you can also select the specific currency on certain bookmakers (if not your default currency), rounding and other domain (if necessary). You also have the option to select if there is any tax applied. Click ok.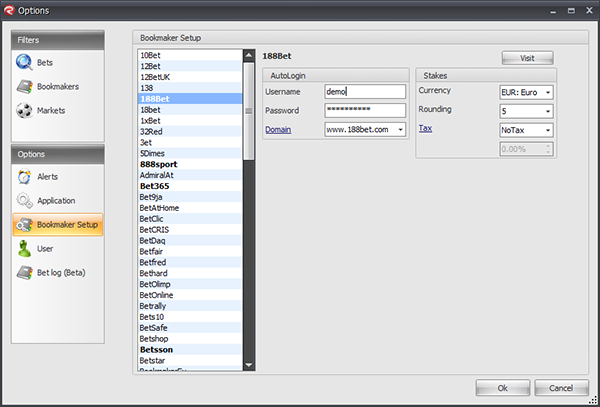 Step 5 – Customize value bet settings
Click on 'Bets'. Enter the preferred range of value percentage and odds. In the 'Hide bets' section, you can choose to hide bets that start after a specific time. The closer to match start the higher confidence you can have in the estimated value percentage. If you place a bet very long time before match start a lot can happen that affect the odds. Click ok.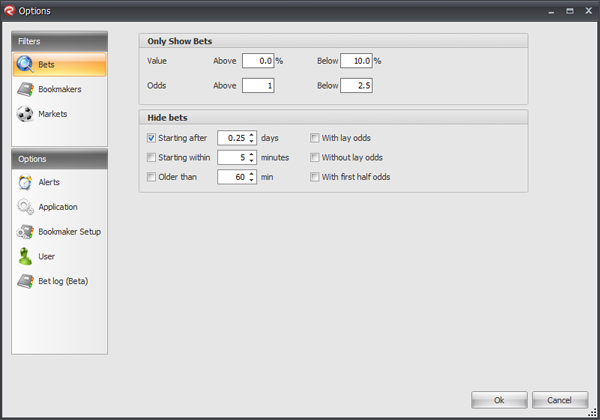 You're all set and ready to go!
How much money can I make?
Go ahead and play around with the calculator and see for yourself how much you can profit.
If you place 30 bets per day (which is our community average), it will on average take you 3 months to double your bankroll. On average, our users triple their bankroll after 6000 placed value bets. Try it yourself! And remember that we offer a 100% Profit Guarantee!