Sure betting in Italy
RebelBetting is one of the most popular arbitrage services in Italy. If you're an italian citizen, don't hesitate to start making money from sure betting (or arbitraggio sulle scommesse as you say in Italy)!
It is a method that effectively turns gambling into a way of investing your money. By covering all the outcomes of a match you'll make a profit no matter which team wins.
Sign up and Start making money today
The concept of arbitrage trading in itself is legal all over the world, as long as online betting is allowed. With arbitrage betting all you are doing is placing bets with different bookmakers whose odds happen to guarantee a profit overall.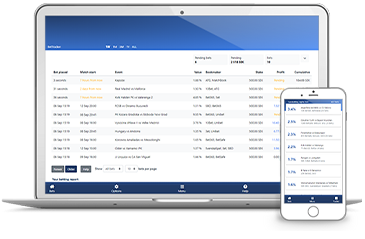 Can I do sure betting in Italy?
The Italian gambling market has been regulated since 2006 and the laws regarding online betting in Italy will affect the bookmakers you're allowed to register on. As long as you can register with some bookmakers that are supported in RebelBetting, then you can profit from sure betting.
Bookmakers who operate in Italy will need a gambling license (AAMS) and have to fulfill certain requirements to be able to offer their services in Italy.
If the bookmaker you use has an Italian domain, it means that they are licensed in Italy. The RebelBetting software offers you to use the Italian domain site (.it) for many of the supported bookmakers in RebelBetting. To select the Italian domain, go to Options/bookmaker setup in the software and select the Italian domain (see image below).
Can I access bookmakers that haven't got AAMS license?
If you cannot access as many bookmakers you would want, you may consider using a bet broker (also known as an agent). By using a bet broker you can access other bookmakers odds and bet via the betting broker. A bet broker will simply place the bets at your behalf on the bookmakers that you cannot access otherwise. Learn more about bet brokers.
Subscribe today
Start using the fastest, most user-friendly, value betting and sure betting service on the market. At any given time, RebelBetting finds thousands of profitable bets for you to bet on.
RebelBetting Pro
Value bets & sure bets

Maximize your profit

The most

profitable bets

Access

non-limiting bookies
RebelBetting Starter
Value bets & sure bets

Great when

starting out

ROI over

30% / month
Become our affiliate partner in Italy
Do you know if a sports community or web site in Italy that might want to mention RebelBetting products to their visitors? Or do you want to promote RebelBetting yourself? If so, you will earn a commission for every sale. By joining our affiliate program you can easily make a nice passive income simply by spreading the word about RebelBetting. Read more and sign up for free here.