RebelBetting 1.4 released
RebelBetting 1.4 has been released, with much anticipated improvements to the alerts, and a new bookie Bet-At-Home!
Improved Alerts
Alerts now work as expected, with a balloon alert window popping up when new or improved arbs are found:
This is a great improvement since the previous version (that always showed the highest arb even if it wasn't new or improved). We recommend everyone to enable this option. Click Options (Alt+O), click Alerts and then Show balloon. You can then enter a lowest arb percentage that is required for the alert balloon to show.
Clicking the arbs in the alert window brings RebelBetting to front and marks the highest new arb.
Arb Change Icons
Small icons have been added to the main list of arbs so you can easily see which arbs are new and which have been improved. (This is of course completely configurable in the redesigned options window).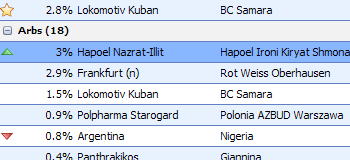 New arbs: Yellow star icon
Improved arbs: Green arrow up
Decreased arbs: Red arrow down
Improved Options Window
The options window have been redesigned from scratch, and a number of new settings have been added.
You can now have two different alert sounds, for example one for lower arbs and one for very profitable arbs. A bunch of new alert sounds have been added.
You can minimize RebelBetting to the tray bar, check the application settings.
Download the new version now, and let us know what you think!