2018 Look back
Here's a little look back with some of the highlights of 2018. Many exciting things have happened this year and there are more to come. But first of all – we would like to thank all our customers and supporters for being with us this year. We look forward to an amazing 2019 with you!
17 new bookmakers
This year we have implemented 17 new bookmakers. We work hard to continuously add more value to our services by adding new bookmakers, sports and more markets all the time. And actually, it's not very long until we can celebrate having 100 bookmakers! Check out the full changelog to see which bookmakers we've added this year.
Increased data quality workforce
We always strive to have the best data quality available for you to bet on. Therefore we make sure to continuously make data quality improvements. This year we have increased the workforce to make sure high standard of the data quality is well kept.
Facebook Community
Back in September, we created an exclusive invite-only Community group on Facebook for our customers and for others who are interested in making money on sports. The Community group is a place for you to share ideas and discuss new features with us and between yourselves. We are very happy that the community now have grown to 700 members. We could not have guessed that it would become so popular so quickly!
Brand new ValueBetting software
Not long ago the brand new ValueBetting software was launched. We've been working on this project for quite some time and have been extensively testing it throughout the year. It's been a great success from the start and we look forward to another year adding more great features to it. The image below shows a merged chart (unique bets only) from 15 of our ValueBetting customers for 35 days. There are around 6000 bets and they've reached 200% ROI (triple the bankroll).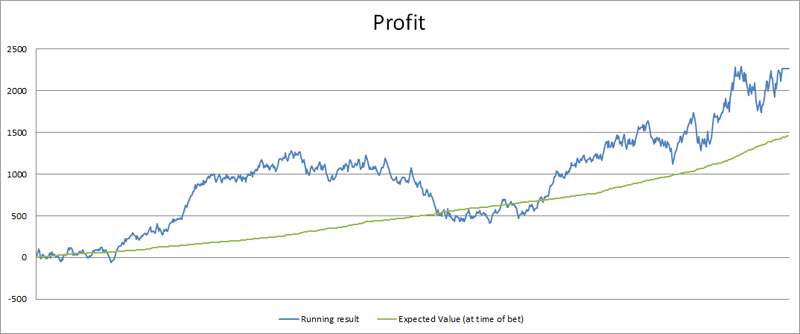 We have a lot of things in the pipeline for 2019, so stay tuned. Keep an eye on our blog, follow us on Twitter and join our Facebook community, then you won't miss out on any updates.
And last but not least – Happy new year!
/The RebelBetting team